JOIN OUR TEAM


APPLICATION REQUIREMENTS:
Join our team at Pulmonary Associates of Richmond! Our mission is to provide the highest quality and most comprehensive care for patients with lung, pulmonary and allergy conditions, and diseases in a compassionate and comfortable environment. Pulmonary Associates of Richmond is voted TOP WORKPLACE in Richmond VA for 2018 and 2020! In addition, we are pleased to offer competitive salaries, generous benefits including health, dental, vision and 401K, 17 PTO days, no weekends office hours, and a caring staff. We are always accepting applications for enthusiastic and qualified individuals who want to join our team and help enhance our practice.
We require the following items for your online application to be complete:
Online Employment Application
Resume
At least 3 references that can attest to the applicant's qualifications, at least 1 former or current supervisor.
GENERAL JOB REQUIREMENTS:
Superior customer service abilities
Strong communication skills (verbal and written)
Excellent computer skills and willingness to work with new technology
An outstanding attitude that exudes caring, compassion and a team focus
The ability to work in a fast-paced environment while maintaining a calm and efficient workflow
A desire to provide our patients with the best and most up to date treatment plans
A desire to develop personally and professionally to reach your full potential
TEAM MEMBER TESTIMONIALS
Wonder what it is like to work at Pulmonary Associates of Richmond?
Hear what our team members have to say!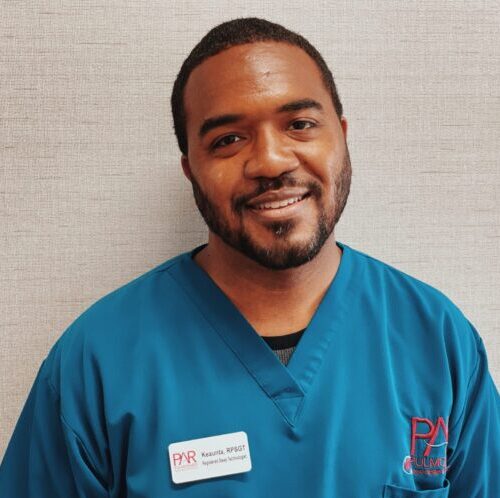 MEET KEAUNTA
Hello, I'm Keaunta Boyd, RPSGT, I've been working at PAR for 12 years as a Registered Sleep Tech. We perform Multiple Sleep Latency Test on patients, pull downloads from the patient machine, troubleshoot any mask issues the patient may have, as well as make pressure changes to the patient machine.
PAR is a great place to work, it's a fast paced and friendly environment. We have great medical benefits and 401k plan. What I like the most about PAR is my co-workers are a group of funny, upbeat, hardworking people which makes coming to work enjoyable.
"I feel that this company is growing very quickly and that leaves room for further career growth and job security."
"The company cares for its employees. The physicians are respectful. The team members are helpful."
"I love how helpful my co-workers are. I can ask a question and get a response because I feel everyone is working together for the good of the patients."
"I work for a company that respects its employees."