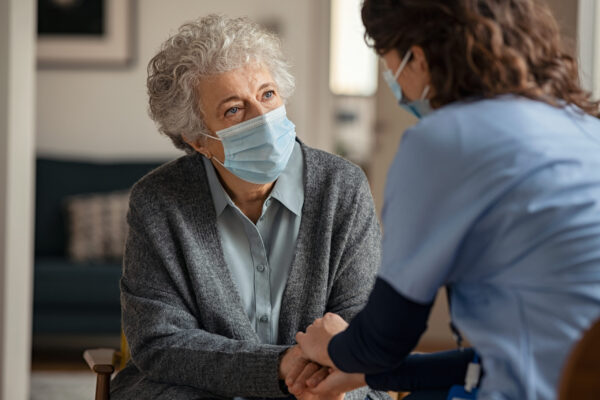 Recovering From Coronavirus: What to Expect During COVID-19 Aftercare
The fight's not over yet! Here's why continued care after COVID-19 is essential.
The Coronavirus pandemic has affected hundreds of thousands of Americans in 2020 alone, and while the scientific community has done much to help in the management, treatment and prevention of COVID-19, it is still unclear to what extent this virus will have on recovered patients' long-term health.
If you are someone who has had and since recovered from COVID-19, it is essential to stay on top of your health and take note of any potential lasting effects. Whether you are someone still experiencing symptoms post-recovery and looking for "long haul" care, or you are someone who feels perfectly well but is looking for a more in-depth analysis of your health, Pulmonary Associates of Richmond is here to help you keep yourself and your loved ones safe by diagnosing and treating any potential long-term effects of COVID-19 on the lungs.
Pulmonary Associates of Richmond aims to help patients return to the highest level of pulmonary function possible with the monitoring and treatment of your lung health after your COVID-19 recovery.
Why is COVID-19 Aftercare Important?
With the proper care, many people who test positive for COVID-19 can recover quickly, within a few weeks after the onset of symptoms. However, the battle doesn't end after the initial recovery phase. There have been multiple cases of COVID-19 leading to long-term damage to the lungs, usually caused by the specific strain of pneumonia that often accompanies the virus. Because this is such a recent phenomenon as well, there may be other long-term effects that remain as yet unknown.
Because COVID-19 itself is so new, it can be difficult for new patients to know what exactly aftercare for this virus looks like. Ultimately, this will depend on your existing conditions, symptoms and lung health. COVID-19 Aftercare may be as simple as scheduling a few additional appointments with your doctor within a year of your initial recovery to confirm your clean bill of health.
However, for "long-haulers" still experiencing symptoms after recovery, or for those with preexisting medical conditions or those who contracted pneumonia while battling COVID-19, these checkups may reveal the beginnings of serious lung damage caused by scar tissue. Many times, patients who are experiencing long-term effects will not even realize it's happening until the damage has become far more serious. This is why it's so important to schedule and attend check-in appointments with your doctor to catch these signs early and start managing the damage immediately.
How Pulmonary Associates Of Richmond Can Help
As we continue to discover more about the nuances of this virus, our experienced team works tirelessly to detect, diagnose and treat any short- or long-term effects that might be impacting your health post-recovery. Whether you're looking for treatment for noticable lingering COVID-19 symptoms or you're simply checking in on your pulmonary health without outwardly detectable symptoms, Pulmonary Associates of Richmond is here to ensure your continued health after COVID-19 recovery.
It's important to keep up with your scheduled appointments after recovering from the virus. Medical experts recommend that patients who have recovered from COVID-19 have follow-up appointments at least four to six weeks after they initially test positive for the virus, but this should not be the one and only time you check in on your pulmonary health. It can take up to a year for a person's lungs to fully return to their pre-COVID-19 levels, so making regular check-in appointments for treatment and testing is essential to ensure you don't experience lasting damage to your lungs.
At your appointments, your pulmonologist will discuss your ongoing recovery and any concerns you have. You can also expect our team to help you with various other aspects of your lung health, including:
Monitoring for long-term respiratory effects

Assessing the existence or possibility of permanent lung damage

Evaluating your risk of blood clotting

Diagnosing moderate to severe lung damage associated with COVID-19

Conducting pulmonary function tests to examine effects of COVID-19 on your airway and lung tissue
If you or someone you know has recently experienced and recovered from COVID-19, contact Pulmonary Associates of Richmond and set up an appointment today. In difficult times, our team is here to help you on your journey to total recovery and good lung health!
LEARN MORE ABOUT COVID-19 AFTERCARE